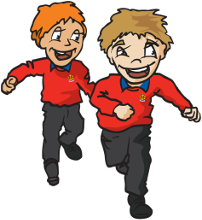 The Anchor Section (school years 1 to 3; ages 5 to 8) have lots of fun doing different activities which include making things, crafts, games, sports, stories, going on visits, making friends, and working towards their badges.
All of this is done as part of a balanced programme that is separated into 5 different zones . . .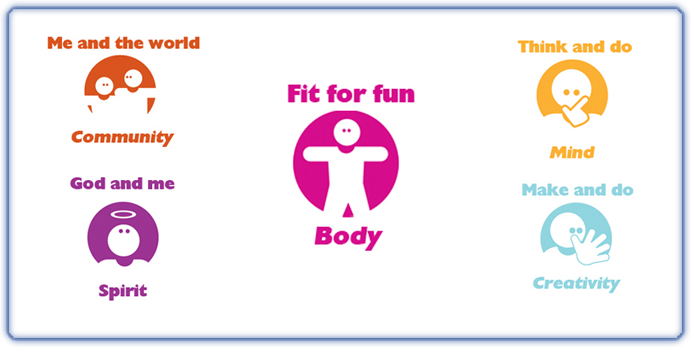 Everything an Anchor Section Boy does helps him to develop and to think for himself, in a safe environment.
Throughout the year the Worcestershire Battalion, to which our Company belongs, holds several activity fun days for Anchors from across the Battalion's area.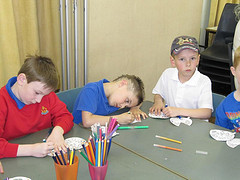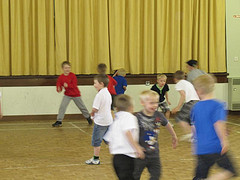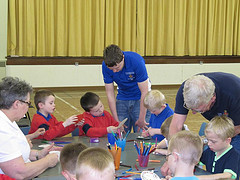 Their Uniform is a red Boys' Brigade sweatshirt worn over a blue/white polo shirt, with School (i.e. plain dark) trousers and formal shoes.
When, Where and Who?
Anchors meet every Thursday evening during term-time (terms as per local Schools).
Mrs Margaret Mullett is the Officer in Charge of the Anchor Section, so if you have any questions then give her a call (see our Contact us page).
We normally meet at The United Church Lye on High Street, Lye near Stourbridge.
However, during to the Coronavirus pandemic, we are not currently meeting face-to-face. Instead, we are meeting virtually with Virtual Sessions on Thursday evenings.
We need to be mindful of the number of young people we can accommodate in our Virtual Sessions. Consequently we have temporarily created a waiting list for anyone interested in joining. Our waiting list can be found here, please join it if interested in joining soon for Virtual Sessions or when we restart face-to-face activities.