Submitted by Mr Rob Parker on
On Saturday 13th November members of the Junior section of 1st Lye joined those from other companies from across the Worcestershire Battalion at the home of the 1st Kidderminster company, Milton Hall Baptist Church, for their annual Ace Day.
The events of the Ace Day - a report by Graham Knight
The morning started with a quiz consisting of 8 rounds of questions from subjects such as Bible, BB, Colours, Country Capitals and true and false. After some lunch we had some more competitions take place which was draughts, darts and Wii skittles. To end the day we had a some parachute games a small service then the prize giving.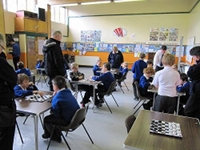 Results
There were some 24 Juniors taking part from 6 Companies - 1st Redditch, 1st Droitwich, 1st Kidderminster, 1st Pensnett, 1st Gornal and 1st Lye.
Position
Quiz
Draughts
Darts
Wii Skittles
1st
1st Pensnett
1st Lye
1st Pensnett
1st Kidderminster
2nd
1st Gornal
1st Droitwich/1st Redditch
(joint team)
1st Lye
1st Droitwich
3rd
1st Droitwhich
1st Pensnett
1st Droitwich
1st Gornal