Submitted by Mr Rob Parker on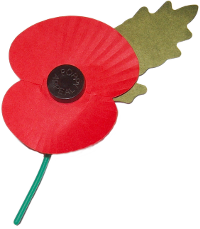 On this year's Remembrance Sunday we joinied other local organisations and the community for a Remembrance Sunday Parade & Service in Lye.
The Parade took a route from the Jackson Street car park along the high street to the War Memorial outside Christ Church, where the Remembrance Sunday Service began at 10:20. After the Service, the Parade marched back to the car park in order to fall out.
With this following a previous year where a Parade could not be organised, it was great to see a good turnout of our Boys as well of other uniformed organisations (such as the Scouts and of course members of the Royal British Legion).
The turnout from the local community was similarly strong, both for watching the Parade and joining the Service at the War Memorial.
Afterwards our own United Church held its Service of Remembrance, to which Parents and Boys were welcomed to join us.
Photos and newspaper article
We currently do not have any photos of the Parade and/or Service. If anyone does have some photos which they would like to kindly allow us to display on this page, please get in touch by selecting the Contact Mr Rob Parker category on the Email Contact Form of our Contact page.
There was however an article in the 14th November issue of the Stourbridge News which covers the various Remembrance Sunday Services that took place across the Stourbridge area. In the printed article there is a photo of the Parade in Lye, in which Daniel Pemberton can be seen carrying our Company Colours on the right-hand edge of the photo (in the front row). You can read the article here on the paper's website but as the photo in question does not appear to have made it to the online version, the photo from the e-edition can be seen below.