Submitted by Mr Rob Parker on

From Monday 27th till Friday 31st August we joined our friends at 1st Kidderminster for a Joint Summer Camp at Coopers Mill in the Wyre Forest.
The events of the camp - a report by Graham Knight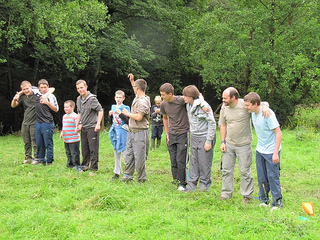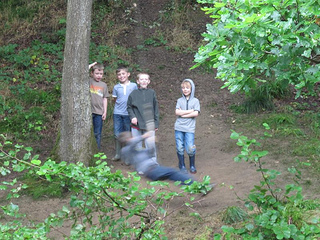 The camp took place at Coopers Mill in the Wyre Forest.
The advance party arrived on the Sunday to set up the camp in the afternoon. It was nice to relax in the forest before the younger Boys arrived as its hard work putting up tents.
On Monday we picked up the younger Boys and took them to the Mill. For 4 of Boys it was their first camp. So the Boys were soon settled in and after some rules of the camp were explained it was time for some fun.
The brook soon had feet splashing up and down and the piles of wet clothes soon started to mount up. On the Tuesday we walked to the visitor centre which gave the Boys a chance to spend their money. We returned and after lunch we had games such as tracker and capture the flag.
Wednesday brought the rain but after lunch the weather improved and allowed us to go outside and play games.
On Thursday we went to Bewdley and this emptied most of the Boys' pocket money. We went to a local park while we waited for the minibus to come back.
Friday we packed up the tents and all went home feeling tired and slightly muddy but we all had a great time.
Photos
Click the play button below to see a slideshow of photos taken by Graham Knight.
You can also manually view the set, by clicking here.